Specialized services for a variety of industries.

Angstrom Technologies, Inc., specializes in providing invisible fluorescent pigments & dyes that can be used in a variety of media and substances for your security, anti-counterfeiting, and authentication needs.
Security Ink Design Services
Angstrom Technologies, Inc.'s, team of chemical specialists partners with ink suppliers and ink formulation experts to develop luminescent taggants and inks across the global market. Our materials can be custom designed to the unique specifications of our clients and the printer executing their products. Angstrom Technologies, Inc., has the experience and expertise to design technically demanding ink products while minimizing the cost for a wide range of industries and applications.
Master Batching & Extrusion Solutions
Angstrom Technologies, Inc., has the capability to disperse most of our pigments into a variety of different polymers. This can be beneficial to enhance a pigment's chemical resistance or lower the pigment concentration needed, depending on the application. We can deliver a concentrated form (master batch) for processing at your facility, or extrude specific taggants into a finished product to your custom specifications.
The purpose of pigment particle size reduction is to optimize the performance of fluorescent or other pigments to work with various media such as inks, varnishes, and adhesives. Pigment particle size reduction is often necessary to enable dispersion of a pigment into the media so that it functions properly at peak performance and economy. Particle size reduction methods include jet milling, grinders, ball milling, and other reduction methods. This process is used in conjunction with classifiers and particle size analyzers to ensure the highest product quality and consistency.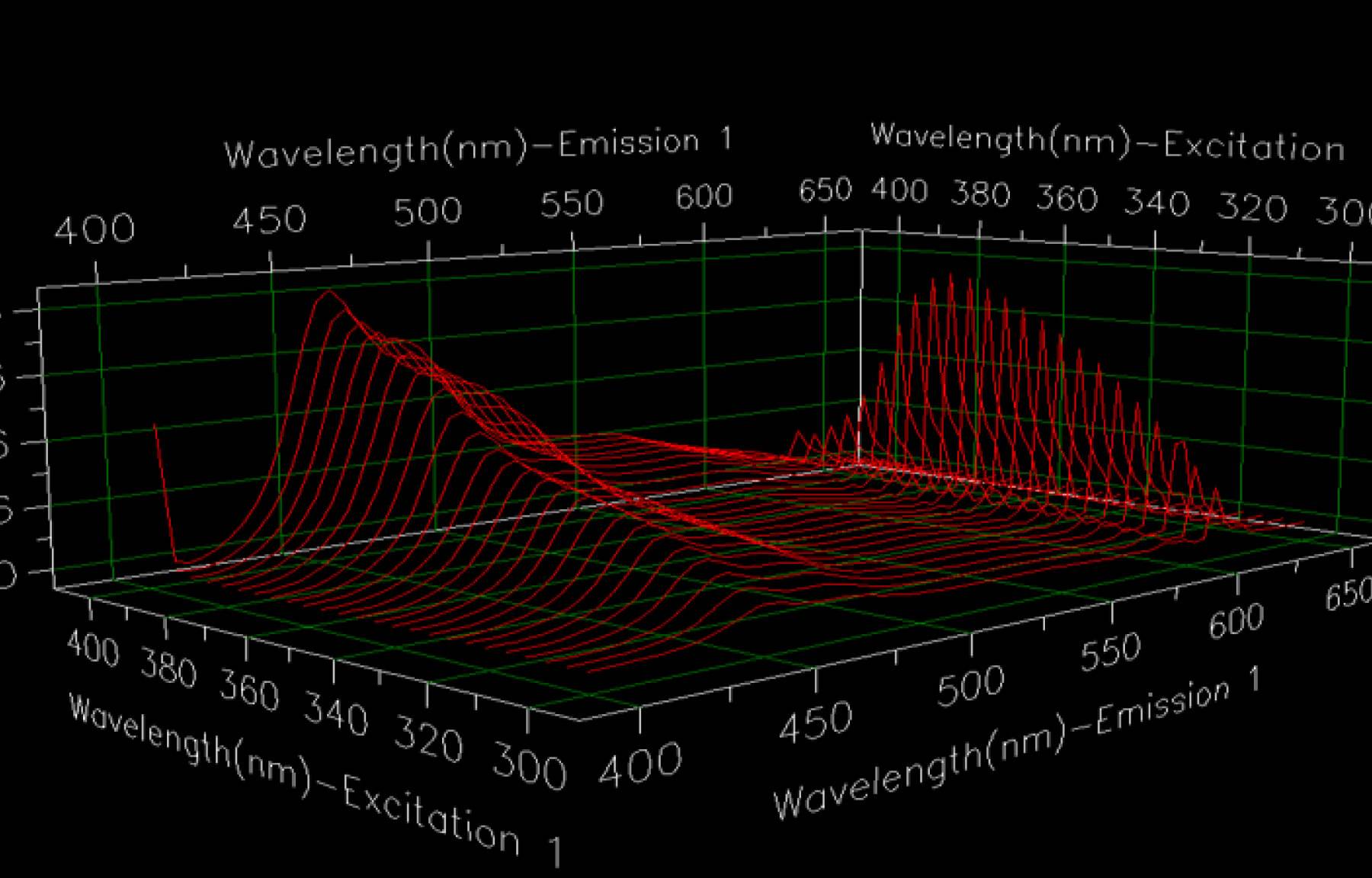 Fluorescence Spectroscopy & Analysis
Angstrom Technologies, Inc., offers exceptional fluorescence spectroscopy services that provide a full analysis of excitation and emission spectra. This analysis is essential for developing new materials and/or assuring material quality for document security and other applications using complex luminescent materials. In addition to fluorescent spectrum wavelength analysis, Angstrom Technologies, Inc., has various devices, systems and methods to quantify the intensity of fluorescent emission in various materials. This can be used to determine the best pigment selection, ink formulation, optimal film thickness, and printing requirements for a wide variety of applications.
UV Fluorescent Material Lightfastness Determination
Angstrom Technologies, Inc., can help determine the durability of fluorescent materials under challenging environmental conditions. We employ multiple processes to determine the lightfastness (LF) of UV fluorescent materials. Our techniques and rating methods are designed to meet the unique challenges of determining the LF of fluorescent materials as compared to other methods that were developed for visible colorants (i.e., the Blue Wool Scale). Our process includes formulation and testing of applied fluorescent materials in a variety of media, controlled full-spectrum light exposure, and then the measurement and analysis of the change in fluorescent emission intensity.
Industry-leading research & development
Our chemistry department, along with our production and engineering staff, specializes in the identification, separation and characterization of fluorescent compounds and mixtures. We identify new compounds, optimize existing materials, perform comparative analyses, and develop analytical methods to solve a variety of application challenges for our customers.
At Angstrom Techologies, Inc., our technology and solutions are used in a wide range of products across a variety of industries. Our pigments and dyes can be found in food labels, government documents, concert tickets, and more.